As an athlete, fitness addict, and personal trainer, Drew Manning always found it difficult to understand why his clients struggled to make consistent progress toward their weight-loss goals.
So, he decided to take extreme action.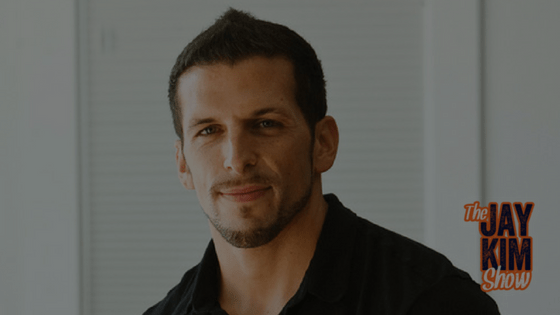 Over a six-month period, Drew cut out all exercise and completely reversed his diet in order to lower his fitness level to that of the average American. The transformation from buff fitness devotee to flabby couch potato was astounding, but it was the next six months that would prove to be the most difficult of Drew's life.
Yet despite the challenges, Drew persevered. Not only did he regain his previous fitness level, but he also took his personal training gig from part-time side hustle to uber-successful full-time business. With no previous marketing experience, Drew positioned his Fit2Fat2Fit story to go viral, landed a book deal to document his journey, and was offered a TV show where he now coaches other personal trainers who want to experience what the weight loss struggle is like for their own clients.
In this week's episode, Jay discovers why exercising is often the easiest part of losing weight and how Drew deals with both the ups and downs of being a successful entrepreneur.
Listen in to uncover:
The importance of your mental and emotional wellbeing when trying to lose weight
How anyone can set the stage to go viral
Why living a healthy lifestyle can help you deal with the stress of being an entrepreneur
Listen to this episode on iTunes.
What was your biggest insight from this week's episode? Let Jay know in the comments or on Twitter: @jaykimmer.
Links from Today's Episode
Detailed Show Notes
(2:20) The beginning of Drew's entrepreneurial career
(3:52) Drew struggles to find his calling after college
(5:47) How Drew's lack of empathy for his clients led him to gain weight on purpose
(9:04) On dealing with the loss of identity that accompanied Drew's physical transformation
(13:17) The emotional and physical downsides to Drew's weight gain experiment
(15:18) On dealing with criticism from strangers
(17:07) Drew transitions his personal training gig from part-time side hustle to full-time business (and lands a book deal in the process)
(20:57) How Drew's Fit2Fat2Fit journey has helped him connect with his clients
(23:39) Why burning fat isn't all about physical fitness and dieting
(25:40) On taking care of your health to positively impact all aspects of your life
(27:58) How Drew deals with the mental fatigue of failure as an entrepreneur
(30:01) Drew's bold plans 2017 and how you can start your own Fat2Fit journey
Asia's latest investing trends and on-the-ground field research delivered directly to your inbox