A traumatic childhood brain injury left Jim Kwik struggling to keep up with his peers in the classroom, but he wasn't about to let his disability get in the way of his dreams. Jim set out to find a way to dramatically increase his brainpower and now dedicates his life to sharing his strategies and techniques with others so that they too may unlock their maximum intellect.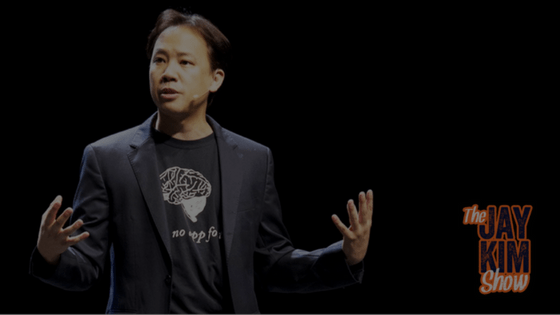 In addition to coaching some of the most respected CEOs in the business, technology, and education industries as well as Hollywood's most sought-after A-listers, Jim is the founder and CEO of Kwik Learning, an online portal that offers courses in speed-reading, memory improvement, brain performance, and accelerated learning.
In this week's episode, Jim tells the inspirational story of how he overcame his limitations to achieve extraordinary success. He also shares actionable advice that you can use to make a lasting impression when meeting anyone for the first time and to start reading faster and smarter.
Listen in to learn:
How to walk away from networking events with lasting connections every time
The importance of getting perspective before making life-changing decisions
Why almost anything is possible when you understand your why
The power of asking good questions
The link between focus, reading speed, and comprehension
Listen to this episode on iTunes.
What was your biggest insight from this week's episode? Let Jay know in the comments or on Twitter: @jaykimmer.
Links from Today's Episode
Detailed Show Notes
(2:02) Who is Jim Kwik (and is that really his last name)?
(4:33) The incredible story of how Jim became a brain expert despite facing colossal adversity
(15:20) On the importance of understanding the why behind your goals
(15:57) How to get more out of the books you read
(19:13) On reading for speed vs. reading for comprehension
(23:13) How to use speed to improve your focus
(25:10) On sub-vocalization and how it limits your reading speed
(26:26) Want to remember everyone's name at your next networking event? Use the MOM technique
(36:03) A sampling of Jim's A-list clientele
(37:31) Why Jim devotes his life to helping others unlock their true potential
(41:11) Jim's brand-new podcast: Kwik Brain
(43:14) How does Jim Kwik want to be remembered?
Asia's latest investing trends and on-the-ground field research delivered directly to your inbox