Bernard Leong is a successful entrepreneur, corporate executive, podcaster, angel investor, and theoretical physicist.
Yep, you read that right, Bernard completed his Ph.D. at Cambridge University before he left academia for the world of entrepreneurship.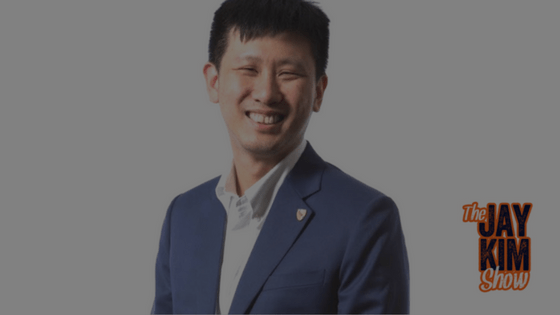 After his first big startup failure, Bernard knew he needed more experience managing agile teams trying to build lean startups, so he turned to the one place most entrepreneurs wouldn't think to look: the corporate world. Bernard turned down an offer from Amazon to work for Singapore Post as the Head of the Post Office Network and Digital Services, a position that he continues to lead in today.
While helping to develop and test Singapore Post's secure drone delivery program, a first in the world, Bernard also found the to invest in early-stage startups and create one of Asia's most popular business podcasts, Analyse Asia.
Listen in to today's episode to learn:
Why it's never too late to change careers or become an entrepreneur
How to use your corporate experience to better manage your startup
What it takes to run a successful podcast while working a full-time job
 Listen to this episode on iTunes.
Have an comments or questions about today's episode? Let Jay know on Twitter: @jaykimmer.
Links from Today's Episode
Detailed Show Notes
(3:42) Bernard's early background in theoretical physics and machine learning
(5:40) On leaving academia to found his first two companies
(7:27) The lesson's Bernard learned from his first major startup failure
(8:26) Why Bernard decided to turn down an offer from Amazon to work for Singapore Post for half the salary
(9:24) Bernard brings secure drone delivery to Singapore Post
(11:36) Bernard investments in his wife's smart standing desk company
(13:42) On the motivation for being the entrepreneur-in-residence at INSEAD Business School
(15:15) Bernard temporarily steps away from Singapore Post to attend Singularity University
(18:49) How Bernard learned to control his stress and improve his health
(22:13) On the origins of Analyse Asia
(29:21) How Bernard manages a weekly podcast while also juggling a full-time executive career
(34:00) Who's listening to Analyse Asia?
(35:48) How Bernard tracks his podcast listeners
(38:17) Bernard's action-oriented daily habits for 2017
(40:57) The tools Bernard uses to boost his productivity
Asia's latest investing trends and on-the-ground field research delivered directly to your inbox