John Lee Dumas is known for his legendary work ethic and focus. As creator of one of the top-ranked business podcasts on iTunes, John publishes a new interview with some of the biggest names in business and entrepreneurship every single day. While his podcast wasn't always at the top of the charts, John's built a successful business around his podcast and the community that sprung up around it. Today, John makes over 6-figures per month from his podcast.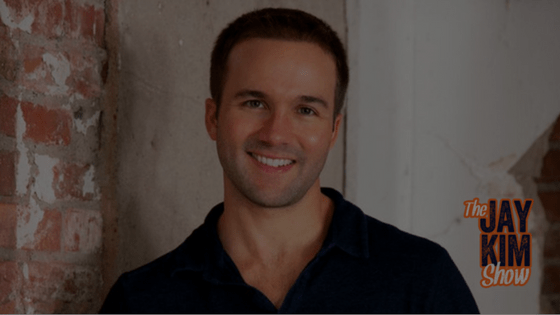 Today, John makes over 6-figures per month from his podcast, Entrepreneur on Fire, and the related products found on his website.
When he's not interviewing the likes of Tim Ferris, Seth Godin, or Tony Robbins (or being interviewed himself), John spends his time mastering the art and science behind productivity, discipline, and focus. In this episode of The Jay Kim Show, Jay talks to John about building his business up from scratch and how he's able to get so much done in a finite amount of time.
Listen in to learn:
Why building relationships and providing value is the quickest way to grow your audience
How being "busy" is just another form of procrastination
Why chasing quick wins won't help you reach your dreams in the long run
Listen to this episode on iTunes.
Let Jay know what you thought of today's episode by tweeting him at @jaykimmer.
Links from Today's Episode
Detailed Show Notes
(2:19) A check-list for anyone who's been itching to start his or her own podcast
(3:57) How John generates so much content while still having time to work on personal projects
(5:30) On growing your podcast audience when you're just starting out
(8:08) What John's listeners value most about his approach
(10:04) John's worst podcast guest ever
(11:37) On being "busy" and the power of batching your work to get more done
(16:13) John's timeless advice for anyone looking to start their own entrepreneurial journey
(18:13) Why providing value to others is the quickest way to success
(19:12) On the power of setting goals, and a sneak-peak into John's Freedom Journal
Asia's latest investing trends and on-the-ground field research delivered directly to your inbox