Welcome to The Jay Kim Show. Your host Jay, an investor, author, and fitness entrepreneur, will help you uncover the secrets, strategies, and formulas that the world's brightest minds in business, investing, and entrepreneurship use to build and grow successful businesses.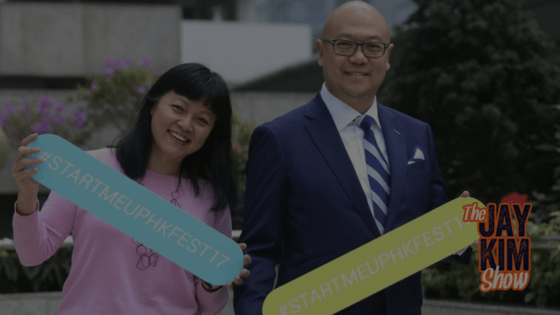 So, sit back and enjoy Asia's first weekly podcast designed to give you actionable insights that will help you become a successful entrepreneur.
In this inaugural episode, Jay talks with Charles Ng, the Associate Director-General at Invest Hong Kong, and Jayne Chen, Head of StartmeupHK at Invest Hong Kong. Charles and Jayne are, together, the driving force behind StartmeupHK Festival 2017, a week-long event dedicated to showcasing and strengthening the Hong Kong startup ecosystem by building links between academics, corporations, incubators, accelerators, investors, governments, and, of course, startups.
This episode covers a lot, including:
What InvestHK and StartmeupHK can do for your startup

Why you can't afford to miss the 2017 StartmeupHK Festival

The appeal of the Hong Kong startup ecosystem

What the future holds for the Hong Kong startup scene
Jay would love to hear what you think about the podcast; share your comments and comments directly with Jay at @jaykimmer.
Links from Today's Episode
Detailed Show Notes
(3:10) Overview of InvestHK

(4:40) Overview of StartmeupHK

(7:50) How StartmeupHK chose their focus industries for StartmeupHK Festival 2017

(12:10) Watch the top 24 fintech startups compete for cash prizes at the 2017 Global Fintech Finals

(15:10) Learn about the origins of the StartmeupHK Festival

(17:40) How StartmeupHK Festival plans to top last year's keynote speaker, Elon Musk

(21:20) What the announced Hong Kong–Shenzhen Innovation and Technology Park means for startups in the region

(23:15) Why Hong Kong's unique geography so appealing to startups

(25:20) The top priorities for StartmeupHK in 2017

(30:20) The challenge of attracting investment funding in Hong Kong

(32:45) The spin-off startup economy
Asia's latest investing trends and on-the-ground field research delivered directly to your inbox