It was a failed business and a sobering conversation with his then 5-year-old son that ultimately led Kent Langley to discover his massive transformative purpose and realize that the best use of technology is that which links profit with social good. Since that pivotal moment, Kent has achieved widespread success as an entrepreneur, public speaker, teacher, mentor, and Chief Exponential Officer (yes, you read that correctly).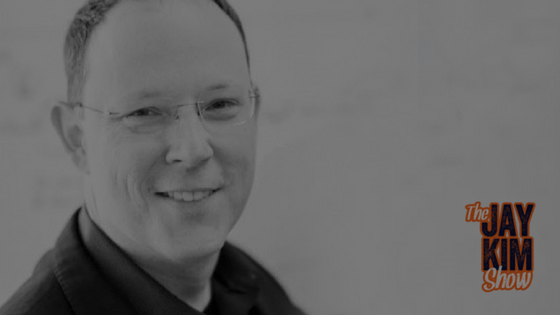 Kent first encountered the idea of an exponential organization (ExO) at Singularity University (SU). It was there that Kent would embrace the world of ExOs and data activation, two disciplines that are currently helping organizations solve some of the world's most complex problems more efficiently.
From Autodesk to your local city government, Kent has since helped organizations of all shapes and sizes harness the full potential of technology for the greater good, all while achieving exceptional results at a fraction of the cost of a traditional organization.
So if you want to learn how ExOs are set to change the face of the planet, listen in to Jay's conversation with Kent and uncover:
How exponential organizations get 10x the results at 1/10 the cost of a traditional organization
What it takes to attend Singularity University
Why data is your startup's most powerful asset at any stage
Listen to this episode on iTunes.
What was your biggest insight from this week's episode? Let Jay know in the comments or on Twitter: @jaykimmer.
Links from Today's Episode
Detailed Show Notes
(3:01) Kent's entrepreneurial background
(4:40) What is an exponential organization?
(6:14) How failure and embarrassment led Kent to discover his massive transformative purpose
(8:26) Kent's current ExO projects
(10:43) How any organization can implement the global ExO framework
(15:30) What it means to be an ExO
(16:15) On helping cities adapt to an increasingly technological world
(18:18) The potential for Asia to become an ExO hub
(19:08) What is data activation?
(22:09) How does data activation tie in to the ExO movement?
(23:14) On Singularity University and Kent's role as a faculty member
(25:43) Singularity University's course offerings and what it takes to attend SU
(28:53) Kent's ambitious goals for 2017
(30:18) On being remembered for generosity and openness
Asia's latest investing trends and on-the-ground field research delivered directly to your inbox