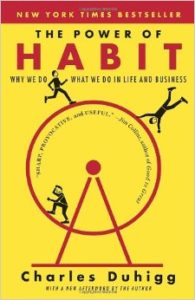 By Charles Duhigg
40% of actions people perform each day weren't actually decisions but habits.  When a habit is formed we no longer make a choice, the behavior is automatic
Pay attention to what your nighttime patterns are and what you automatically do when you get up.  Understand your habits and it will change your life.
Habits emerge because the brain is constantly looking for ways to save effort.  Left to its own devices the brain will make almost any routine into a habit.
Habits never really disappear.  They are encoded into the structures of our brain and that is a huge advantage for us.
The problem is that your brain can't tell the difference between a good and a bad habit, so a bad habit will always be lurking there unless you have the right cues and rewards for a good habit.
Rewards must be EMOTIONAL when it comes to exercise because you cannot change your body overnight.  Hence the importance of a visual goal (the North Star).
Physical reward: On a workout day, higher calories Immediate satisfaction of something sweet + the joy of eating big and feeling full. For example, so many times I have done a heavy workout just so I can EAT that day.
Psychological victory: The importance of tracking your workouts, every lift will be a psychological victory as you increase 1 rep or weight each workout. Weekly weigh in's and progress pics also offer great psychological reward
Emotional payoff: This is the North Star principal. You must have feelings of pride and accomplishment to get you thru the low calorie days and for the long haul.  One step closer to your goal.
Create a craving.  A craving makes cues and rewards work.  That craving is what powers the habit loop.
You must appreciate the reward.  If you do not appreciate the reward then you will not be successful in forming the habit.
Most successful dieters envisioned a specific reward for sticking with their diet…something they chose carefully and really wanted.  They focused on the craving for that reward when temptations arose, cultivated the craving into a mild obsession.  And their craving for that reward, crowded out the temptation to drop the diet.  The craving drove the habit loop.  Cravings are what drive habits.
"Champions don't do extraordinary things, they do ordinary things but they do them without thinking…" Tony Dungy
To change a habit, you must keep the old cue, and deliver the old reward, but insert a new routine.  Almost any behavior can be changed in this way.  Same cue, same reward, shift the routine.  That is the RULE:  You can change almost any behavior/habit by keeping the same cue, the same reward, but using a new routine.
Willpower isn't just a skill.  It's a muscle.  It gets tired as it works harder, so there is less power left over for other things.  If you want to do something that requires willpower like working out, you have to conserve willpower during the day.
When you force yourself to go to the gym instead of having a cheat meal you are changing how you think.  People get better at regulating their impulses and learn to distract themselves from temptations.  Your brain helps you focus on your goal.
When people are asked to so something that takes self-control, if they think they are doing it for personal reasons, a choice or something they enjoy because it helps someone else, it is much less taxing,
Asia's latest investing trends and on-the-ground field research delivered directly to your inbox