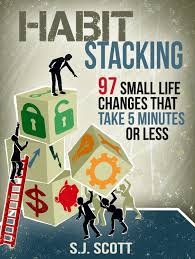 By S.J. Scott
"Big doors swing on little hinges." – W. Clement Stone
Small events can cause big things to happen.
Habit stacking – adding a bunch of small habits to your day that will in the long run be beneficial to you. (eg eating fruit, brushing teeth)
Cognitive load – human beings have a finite limit on our short term memories. (7 chunks of information) so you have to rely on long-term memory, habits and established processes to get anything done in life.
Habit stacking is different than mini-habits (Stephen Guise)
Each Habit should be less than 5 minutes
A complete habit cannot be built upon. Exercise is a habit that CAN be built upon. According to S.J. Scott this is not a habit stacking habit. I disagree. Once you finish this Hack, your "exercise" habit will be locked in at 45min, 3x a week. Period.
Habits should be beneficial to your life (good habits) be simple to complete (training program will be on the Hack) and take less than 30 minutes to complete.
The author then goes into the different categories offering suggestions in Productivity.
Do the Hardest (or Most Unappealing) Task First. I agree with this in the context of lifts. Starting your week off with the Squat is such a psychological achievement that it makes your whole week seem easy in comparison. I squat on Sundays to "jump start" the week. Totally changed my life with regards to the Sunday Night Blues and Monday Morning Scramble.
#16 write a DONE list. This is like looking at your training log.
The author then goes into other areas of life such as Relationships, Finances, Organization, Spirituality, Health & Physical, Leisure.
He suggests setting up a routine or checklist and following all the habits in the routine in a row. Like a process.
Call a friend from the car that you haven't spoken to in a while.
Create small, enjoyable rewards.  This ties in directly with the carb cycling aspect and reward of feast or famine on training day vs. rest days.
Focus on repetition, the key is to last the first 30 days.
People often quit not because of laziness but because LIFE gets in the way to derail their plans. How to deal with this? I wake up early and do my workout first thing in the morning. That way nothing can get in the way. Except for a hangover. You booze, you lose.
KNOW YOUR TRIGGERS.
Asia's latest investing trends and on-the-ground field research delivered directly to your inbox