Killing Me Softly
One of my favorite albums in high school was The Score by Fugees. The Score came out the day before my 17th birthday and nearly every song on the album was a smash hit. The album received critical acclaim from a number of key magazines and newspapers. My favorite song was "No Woman, No Cry" a remake of the original reggae song by Bob Marley and the Wailers. I remember many a drunken night dancing senselessly to the chorus when the famous words "Everything's gonna be alright" would repeat over and over again. I was young, carefree and well…drunk. Regardless of what you thought of that album, that chorus seems to have completely infected investor thinking today. This year's rally is a perfect demonstration of this ethos.
Last month I was fortunate enough interview 40 top global investors for the How To Invest In Asia Virtual Summit. Of all the great dialogue and back and forth that I had with summit guests, by far the biggest consensus head scratcher of all was this bull market run in US equities (coupled with the lowest volatility since…ever). At present we are 8.5 years into a raging bull market which also happens to be the 2nd longest ever in history. (The longest was back in October 1990 to March 2000 leading up to the tech crash…doh!)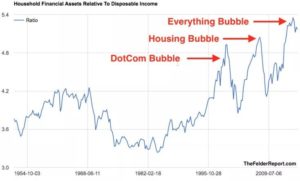 Source: Contra Corner blog
By pretty much every valuation metric out there, the market is overvalued.  And yet somehow the slow and steady melt up continues, day in and day out…taunting the fundamental value investors who have been sitting on their hands for the last 18 months and quietly rewarding the "You Gotta Be In It, To Win It" momentum traders.
To add further insult to injury the VIX which is the CBOE's volatility index which is also known as the "Fear Gauge" or market's expectation of short term volatility hit a historical low close of 9.19. Amateur hour traders who are long the XIV (which is one of the inverse VIX ETN instruments) have been rewarded with positive carry for jumping on the "Everything's gonna be alright" bandwagon trade of the year (+115% YTD).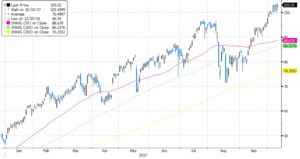 The Trade of the Year: XIV, Source: Bloomberg
The final blow to "smart money" investors as of recent has been the whole crypto mania that spawned the same sort of investor absurdity that happened countless times in history in all major bubbles such as the dot com bubble in the late 90s and even the Tulip mania of the 17th century.  From John McAfee who earlier this summer tweeted out that he would eat his own d*** on national television if Bitcoin did not reach $500,000 in 3 years, to various financial gurus and pundits such as Jamie Dimon (JPM), Ray Dalio (largest hedge fund manager in the world) and most recently Jimmy Wales (Wikipedia) coming out with stern warnings about the scam-y nature of ICO's no one knows how asset prices across the board can just continually keep going up.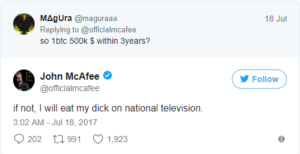 Source: Twitter
It's ironic that title of the very song whose chorus repeats "Everything's gonna be alright" is actually "No Woman No Cry." Sadly it seems many a tear will be shed when this music stops. As Buffett famously said, "It's only when the tide goes out that you find out who's been swimming naked."  
So what will keep us skinny dipping for the time being?
The answer is…not much! With Catalonia walking away from the independence line for the time being and the IMF fully jumping on the "Everything's gonna be alright" bandwagon by upping global GDP forecasts, there seems to be little to stop the party at the moment. US Earnings season kicked off this week as well and market expectations remain high on beats across the board on the Street's estimates.
Over to Asia despite the continuing tug of war between Trump and Kim Jong-un markets seem to all have ignored the risk of war for the time being. The China's Communist Party begins its once-in-five years leadership transition meetings next week, all but guaranteeing that the "national team" of China will be supporting the markets for the time being. News of China's commerce ministry approving HNA to buy some of Glencore's assets proved a relief as the witch hunt on large private conglomerates seems to have taken a pause…for now. As we pass the one year anniversary of the yuan having joined the IMF's SDR basket, markets seem to embrace by PBOC governor Zhou's calls for the country to move to a market-based exchange rate mechanism with looser capital controls.
As the week wraps up, "No Woman, No Cry" continues to play on repeat and I leave you with a quote from none other than newly awarded Nobel Economist Richard Thaler who says:
"We seem to be living in the riskiest moment of our lives, and yet the stock market seems to be napping. I admit to not understanding it. I don't know about you, but I'm nervous…"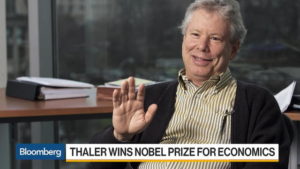 Source: Bloomberg
"Everything's gonna be alright…Everything's gonna be alright…"   
Markets peak when nobody can think of a good reason why the music should stop. While most investors are enjoying a warm skinny dip in high tide, savvy (fearful) investors are quietly pulling up their pants underwater (and taking some chips off the table) realizing that much of the good news is nearly all priced in and due to the mean reverting nature of markets, periods of obscenely low volatility are inevitably followed by periods of higher volatility.
The probability of a Fed rate hike before year's end (Dec) is now up to 79% and only time will tell what the unwinding of a nearly $4.5 trillion balance sheet will actually do to our gift that keeps on giving.

Asia's latest investing trends and on-the-ground field research delivered directly to your inbox